In the midst of her final year of her university playing career, Mikaela Dodig was disappointed to see Ontario University Athletics (OUA) paused by the Ontario government.
"I feel no one has heard the voices of student athletes speak up about this," said Dodig. "As we have seen on social media, it is clearly evident that OUA and university or OCAA athletes are elite. We put in a lot of hours training on-court, in the weight room, watching film, mental performance while all having a full course load."
The Ryerson Rams point guard was hopeful that she could play out her final season back home in Ontario following the cancellation of the entire 2020-21 season.
Prior to joining the Rams, the Ontario native played four seasons with the University of New Brunswick Reds and is currently completing a master's degree at Ryerson.
On Jan. 4, when the provincial government introduced new restrictions due to the COVID-19 pandemic and the onset of the OMICRON variant, OUA was excluded from a list that deemed certain leagues as elite amateur sports leagues.
Leagues in the list are permitted to continue their seasons, which include regular season games and training with limited indoor capacities.
While junior leagues like the Ontario Hockey League(OHL) and Ontario Scholastic Basketball Association (OSBA) are considered feeder systems for OUA and USPORTS as a whole, they were permitted to continue.
"Not being considered an elite athlete while, especially high school athletes, who are going to be coming and playing in our league one day, are considered elite amateur, it is defintely disheartening and a little disrespectful," Dodig said. "I think it's important as [OUA] athletes we stand up and use our voice to be recognized and have the opportunity to continue to train and fulfill our full season."
In response to the list, the OUA published a statement in opposition to the Ontario government's restrictions by reiterating the high competitive level of Canadian university sports.
Coaches, players and fans voiced their support of the OUA on social media through their own statements and posts as well.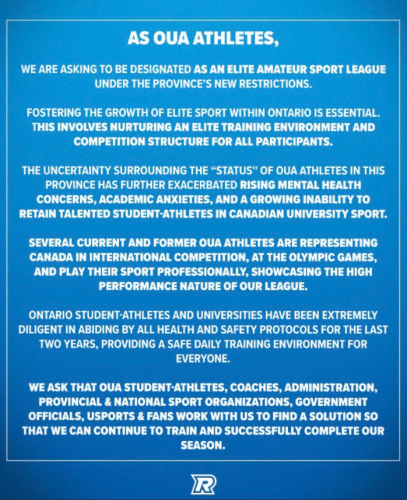 Along with contributing towards the Rams' statement, Dodig's own social media post voiced her frustrations over the uncertainty of her final playing year and the OUA's exclusion. Despite maintaining safe environments for training and games throughout the pandemic, the post reads.
"I wanted to make a post on my own just to share passionate student-athlete perspective because people are thinking the exact same thing," she said. "Especially because it is my last year, I just want it to end without finishing off the season. This [OUA pause] is three weeks less that I get to be in the gym my my last two and a half months of basketball at this level, and I think it's important that we at least try to save it."
The OUA is expected to cancel seven games during the pause, which is orignally slated until Jan. 24. However the delay may be extended, according to an OUA press release.
The Rams' varsity teams initially saw a decrease in the number of scheduled games, but have not been updated on the next steps for the season.
Since March 2020 when Ontario experienced its first lockdown of the pandemic, the women's basketball team has only played six regular season games.
Moving forward, Dodig said that she wants the Ontario government to fully realize that Canadian university athletes compete at high, elite levels, and that the OUA and USPORTS deserve more respect and recognition.
"I would like the Ontario government to give us the credit we deserve and deem us an elite amateur sport league and allow us the opportunity to train," she said. "I want people to know that Canadian university sports fosters a competitive and high performance sport culture, and it is important that we support our athletes in Canada."
During high school, Dodig played for Bill Crothers Secondary school in Markham, ONT. in the OSBA prior to her university playing career.
Further, she was part of Canada's under-18 women's junior national team prior to joining USPORTS.
Listen to Mikaela Dodig's full interview: