Grassroots groups and advocates for the protection of workers gathered to mourn those who were injured or killed on the job in Canada. The rally was held outside outside of the University Ave. office of Ontario minister of labour, Monte McNaughton.
Speeches and letters from migrant workers were read by organizers as testimonies to the dangers of their work conditions.
McNaughton was not present at the rally, but two of his office representatives met the organizers outside to listen to their speeches and demands from the government.
The representatives would not confirm their names with CJRU, however they said that a response from McNaughton's office is forthcoming.
"Especially for migrant workers who cannot legally obtain other work in Ontario, change the WISB's (workerplace safety insurance board) discriminately mental stress policies to protect all workers from workplace harassment and abuse," read one letter.
This first letter was a collective one from the organizers, demanding the government to better protect immigrant workers, especially those who are unable to fully access Canada's healthcare system when they are unable to work due to injury, and to ask that the WISB stop rejecting worker's injury claims.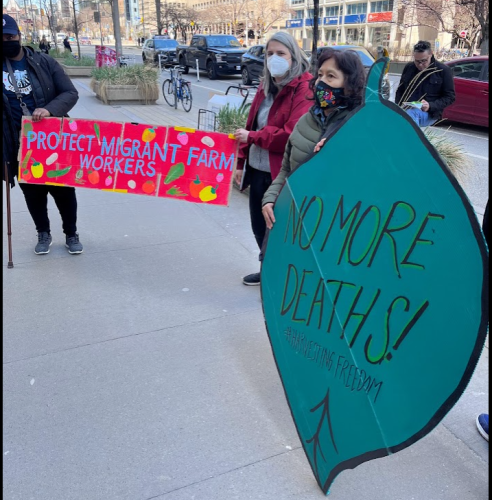 A second letter was read out by Sang-Hun Mun, an community organizer with IAVGO, a legal clinic dedicated to representing workers in workplace injury cases.
This letter was from a migrant farm worker suffering from cancer after allegedly being exposed to pesticides each day, and who was fired when his employer learned that the diagnosis was terminal.
Sang-Hun Mun spoke with CJRU about why it was important for him to come out to the rally and to document his own experiences finding work as an immigrant to Canada.
"We know that there are so many issues, systematic issues that we identify with our groups and injured workers that shared in our experiences," he said.
Mun immigrated to Canada in 2004 and began work with a roofing company. He was injured when he fell off a roof and landed on concrete. His foot, neck and back were badly injured. Since then, he has been an active member of helping to gain more recognition for migrant worker's rights.
While he said the government has mentioned some efforts to increase workplace safety regulations and protection for injured workers, Mun said based on his experience and the experiences of those present, this is not the case.
He is also asking that more focus on worker's rights to be part of the Ontario parties' platforms prior to the June 2 provincial election.
May 1 is dedicated to workers day, and efforts will continue for several groups to lobby for expanded workers rights for immigrants and those dealing with workplace injuries during the month.
More details to come.
Listen to CJRU's coverage of the rally here: