Toronto's University Health Network announced on Aug. 20 that employees who are not vaccinated against COVID-19 by Oct. 8 can be fired.
The health network previously considered asking unvaccinated employees a leave of absence before the recent development.
Health network CEO Dr. Kevin Smith wrote in a statement that workers are expected to have their first shot by Sept.8 and their second one by Oct.8.
If an employee is still not vaccinated, they will be placed on a two-week unpaid leave. If there is no proof of a vaccine after that period, the employee is then fired.
According to a statement given to CP24 last week, Smith said 92 per cent of University Health Network employees are fully vaccinated, up from 85 per cent.
This increase comes after a policy made testing mandatory before an employee arrived at work if proof of vaccination was not offered.
The Oct. 8 deadline to have health network employees fully vaccinated by the fall is another effort by the city to battle the  fourth wave of the pandemic.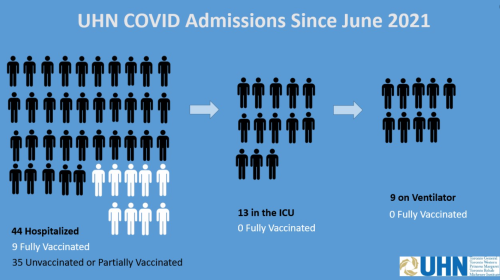 On Aug.19, Mayor John Tory city staff workers and Toronto Transit Commission employees must be fully vaccinated by Oct.30.
The University Health Network includes Toronto's major hospitals, including Toronto Western, Princess Margaret and Toronto General.
Ontario saw another uptick in COVID-19 cases this week, with the province hitting more than 600 for the first time since early June on Aug. 20. 136 cases were in Toronto.
More than 28 thousand tests were administered in the previous 24-hour window. The positivity rate stands at 2.4 per cent.
As the city's vaccine rollout continues, more than 66 per cent of eligible adults are fully vaccinated, with about 4.5 million vaccines administered, according to the City of Toronto website. 
Listen to the CJRU update: