The Toronto Blue Jays announced that attendees entering the Rogers Centre must show proof of full vaccinations against COVID-19 or show a negative test within 48 hours prior to the game.
This will be mandatory for all fans starting on Sept.13.
The new measures established by the Blue Jays, who are owned by Rogers Communications, follows the decision of Maple Leaf Sports and Entertainment last week – all fans returning to games for the Toronto FC and Toronto Argonauts this summer, along with the Toronto Maple Leafs and Toronto Raptors this fall will be required to show proof of full vaccination or a negative test as well.
These decisions follow a week of announcements from the City of Toronto and University Health Network asking all staff be fully vaccinated by October, as well as other in-person events like the Toronto International Film Festival.
These announcements were made as the city prepares to deal with the fourth wave of the pandemic and the delta variant strain.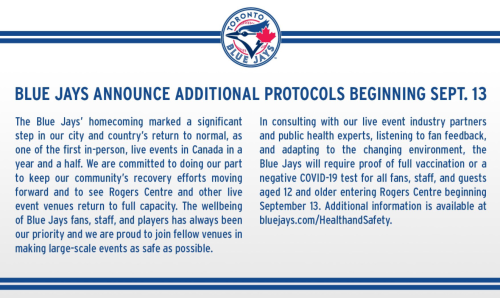 Due to travel restrictions between the US and Canada in the 2020 season and early portions of the 2021 season, the Blue Jays were forced to play their home games in Dunedin, Florida and Buffalo, New York.
These fields belong to Toronto's training facilities and their Triple A affiliate, the Buffalo Bisons.
The Blue Jays played their first home game at the Rogers Centre in nearly two seasons on July 30.
Other COVID-19 protocols in the Rogers Centre including mandatory face coverings and social distancing will continue to be enforced by staff.
As of Aug.24, the Blue Jays are 65-59, having lost seven of their last 10 games.
Toronto is currently five games back of the final Wild Card spot in the American League and are fourth in the American League East division with 38 regular season games remaining.
The Blue Jays have not returned to the postseason since the 2016 season.
More details are to follow.
Listen to the CJRU update here: