In an effort to target specific Toronto neighbourhoods with low vaccination rates, Mayor John Tory announced in a press conference the launching of the #DaysofVaxtion, a four-day campaign dedicated to setting up more mobile clinics in high traffic areas.
The clinics will be in schools, TTC stations, malls and major intersections , and runs for four days from Sept.16 to 19.
"This is a mega event, made up of micro clinics as opposed to what we [City of Toronto] did in Scotiabank Arena, which was a very large event," said Tory. "The targeted nature of the work we have to do has us setting up smaller pop-up clinics that are put exactly where we know people need to get vaccinated, and where we know people will be over the coming days on this question of accessibility."
This campaign builds on the previous Team Toronto mobile vaccine strategy that Tory, Toronto Medical Health Officer Dr. Eileen de Villa and Spadina-Fort York city councilor Joe Cressy announced in late August.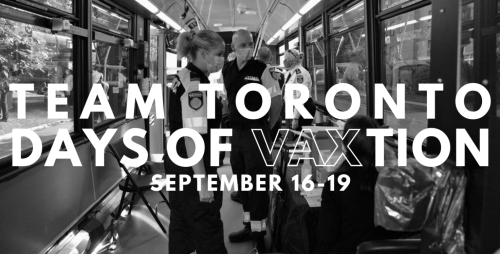 This renewed, accelerated version of the campaign continues to encourage Toronto residents to become fully vaccinated as the city deals with the pandemic's fourth wave and the Delta variant.
Mobile clinics are intended to be more convenient and accessible for residents, and specific neighbourhoods were chosen based on data-driven evidence, according to Tory.
More public and private areas, including university campuses, places of business and venues like the Rogers Centre and TIFF Bell Lightbox require individuals to be fully vaccinated or show proof of a negative COVID-19 test to gain entry.
Toronto has reported about 600 positive COVID-19 cases per day this week, with the seven-day rolling average at 722, according to provincial health officials.
More than half of positive cases were individuals that were not fully vaccinated (received their first dose) or had an unavailable vaccination status.
Listen to Mayor John Tory's full press conference here: