The City of Toronto and Mayor John Tory proclaimed International Overdose Awareness Day on August 31 to raise awareness about the impact of the ongoing opioid poisoning crisis in the city and to help reduce stigma and discrimination against individuals who use drugs.
Over the course of the COVID-19 pandemic, there has been a dramatic increase in the number of both fatal and non-fatal overdoses across our city, according to a City of Toronto Press release.
"This has become a full blown health crisis and it deserves the same level attention as other health related issues," said Tory. "We require a commitment and further action from every level of government to address this crisis and to save lives. I will continue to advocate on behalf of our City to the other levels of government and call on them to provide funding to cities who are on the frontlines addressing the opioid crisis."
The city's medical officer of health, Dr. Eileen de Villa, said, "When we look at the impact the COVID-19 pandemic continues to have on this crisis, and what that means for the people who use drugs, their family members and friends, and the service providers who work so hard to support them each and every day, I remain vigilant and determined in making sure we do everything we can to lessen the effects of this crisis on our city."
City councilor for Spadina-Fort York, Joe Cressy made a statement for the day as well.
"The need for action to prevent fatal overdoses has never been more urgent," said Cressy. "Last year alone, we lost 530 people in our city to opioid overdoses – friends, loved ones, members of our communities. These deaths are devastating, and preventable. It's time for everyone – and all levels of government – to treat this crisis as the urgent health issue it is."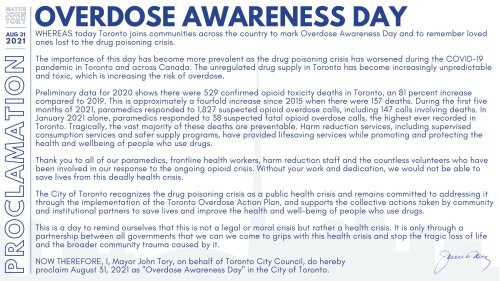 Preliminary data from the Office of the Chief Coroner for Ontario shows were 530 opioid toxicity deaths in Toronto in 2020. This is an 81 per cent increase compared to 2019 that had 293 confirmed deaths.
The press release reads that there were 562 non-fatal and 26 fatal calls attended by Toronto Paramedic Services. The number of non-fatal calls due to suspected opioid overdoses is the highest on record since the City started monitoring in 2017.
Outlined factors that have contributed to the uptick in opioid-related deaths include the unpredictability of toxicity of the unregulated drug supply ; drugs being consumed alone due to physical distancing and other COVID-19 isolation requirements ;  reduced health and social services and service hours due to the pandemic.
Listen to the CJRU news update: