After postponing the 2020 show due to COVID-19 restrictions, the Toronto After Dark Film Festival is back for 2021 to celebrate its 15th year.
The annual film festival showcases a wide range of local and international, horror, sci fi, action and cult films since 2006.
When in-person screenings were not possible in fall 2020, founder and festival director Adam Lopez decided to switch this year's programming to hybrid, using both digital streaming with in-person theatre options at the Scotiabank theatre downtown.
"It was a definitely a blow to us that [COVID-19] vaccines were not coming on time, and there would be another lockdown in the fall [2020]," said Lopez. "Internally we did not want to go the online route. I think we are very much a champion of in-person experiences, so we made the painful decision to not go ahead with the festival last year."
With Ontario in Phase three of reopening and indoor restrictions loosened for theatres, Lopez is hopeful the excitement and fun of the festival's programming will bring back fans.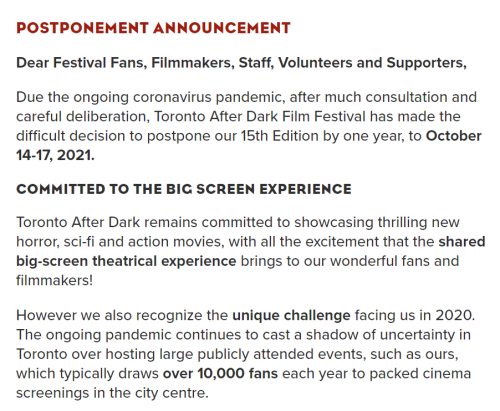 As the curation process for final selections continue this summer, he said audiences should expect to see another level of "creativity and innovation" from filmmakers who shot during the pandemic.
While the festival will not be able to have its traditional full capacity screenings, he said audiences will still have a great time, either from the comforts of their homes or if they decide to come downtown.
"I do still feel we will have a great experience, we will make it fun, have filmmakers involved in the online component," said Lopez. "The downtown component will be fun too even if we don't have full capacity venues. It's a new world for us all, but I think it's going to be a very entertaining Toronto After Dark."
The festival was started by Lopez and a group of fellow movie fans in 2006.
Lopez originally conceived the idea of the festival during his childhood in Britain and decided to pursuit it full-time when he left his advertising job.
The Toronto After Dark Film Festival returns this fall from Oct.14th to the 17th.
Listen to Adam Lopez's full interview: